Upon arriving to such a wonderful city as Prague is the last thing you have to care about is transfer to the city center, your hotel or a business meeting. This city is created for comfortable pastime and successful business. That's why VIP chauffeur service is the best option among Prague transfers methods. Not sure if this is your case and why might you need such service? Just keep on reading to learn all the ins and outs of private Prague transfers.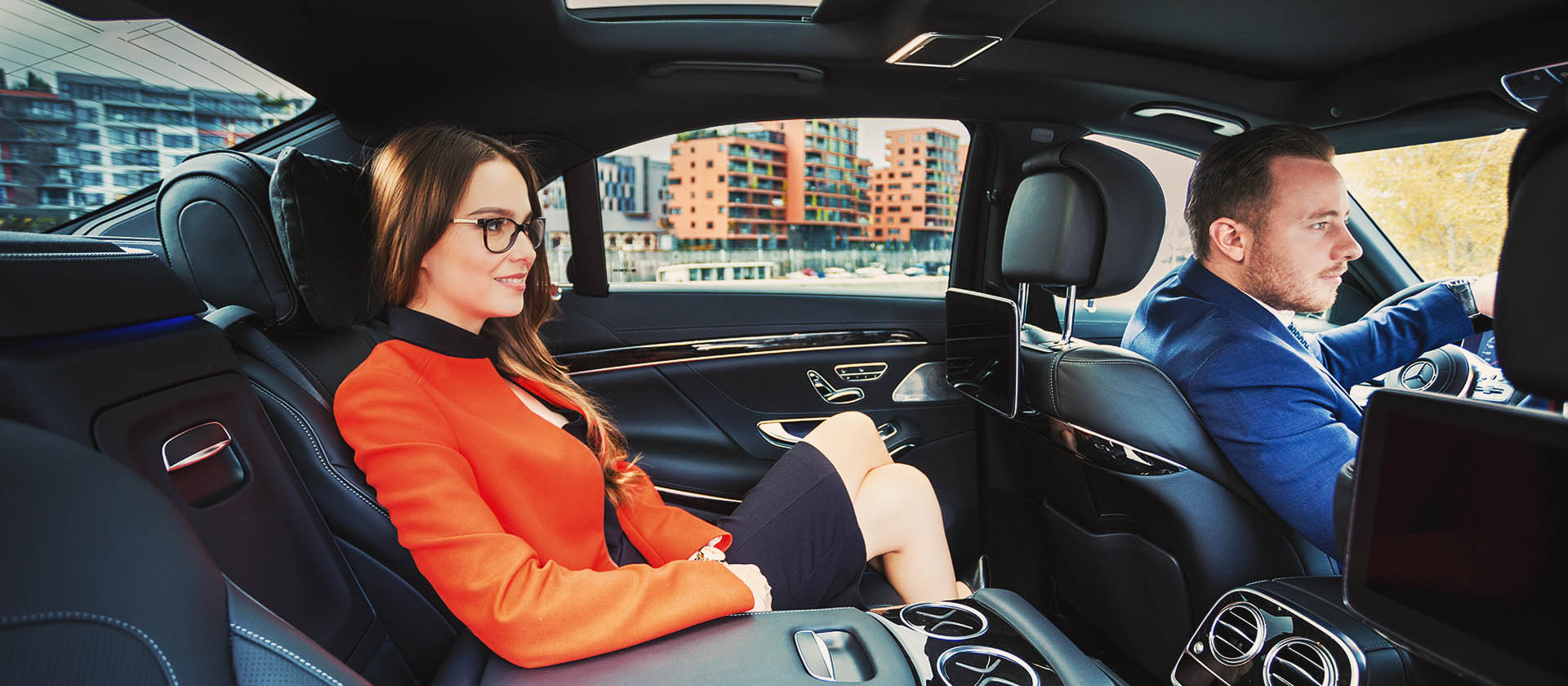 ---
In what situation may you need Prague executive car service?
Booking an executive car with a chauffeur in Prague is more than just a good idea in multiples situations such as a transfer from Prague airport to the city center, hourly Prague limousine service or long-distance trips to other cities of Europe. Basing on the experience of T&A Transfers we have collected the most popular situations when you will maximally benefit from Prague executive car service.
- Airport transfers. Getting from Václav Havel Airport (PRG) to the city center, your hotel or a business meeting is full of difficulties and issues when all the preparations and route planning is up to you. Using professional chauffeur service will fully snap you out of all the possible risks and troubles. A punctual English-speaking driver meets you at the terminal exit with a welcoming sign and helps you with luggage. During a ride you can relax or work sitting in safe and comfortable Mercedes car. That's what we call VIP Prague transfers service.
- Prague limousine service. At your disposal there is a fleet of Mercedes executive cars and limousines at T&A Transfers. Having arrived to a business meeting at such a car the first impression to your partners will be exactly as you could wish. And every businessman knows how important it is! The Mercedes limo service will also be of highest utility if you have several meetings in a single day or you have to arrive to an official event of a high level. Mercedes limo with a professional well-dressed chauffeur will do their job for your reputation.
- Day trips from Prague. The Czech Republic and neighbor countries are most fabulous places in Central Europe. And with T&A Transfers chauffeured service you get a unique chance to travel around the most beautiful places once you are in Prague. Booking a train ticket and planning such a trip by your own is full of uncertainties. But when you pass all the preparations to professionals, what you get is just a pure relaxation and pleasure.
10 benefits you get with T&A Transfers limousine service
1. Trusted professional drivers. Choosing a right chauffeur service, you firstly choose a driver, so the right person is essential. T&A Transfers' personnel are only trusted people fully dedicated and in love with their work. Well-spoken English, high competence, perfect knowledge of etiquette and highest attention to driving are all you will get.
2. Premium class Mercedes fleet. T&A Transfers chauffeur service works only with high-class Mercedes cars. Such a choice is determined by our dedication to safety, ultimate comfort and highest technical standards. We are ready to accept both individuals and bigger groups. To your choice we offer Mercedes E-Class, S-Class, V-Class and GLS – powerful, stylish, the best!
3. Cost-efficiency. When you first talk about chauffeured executive car service, it seems so costy, but the reality is the opposite. The fact is hiring Mercedes limo service is slightly more expensive than using a regular taxi. But the service level you get is as different as chalk and cheese. Not to mention situations when you need to transfer among several business meetings or go to an official event.
4. Personal changeable route. In case you have arrived to Prague with the aim to visit several places in short time, regular tourist tours will be absolutely useless. But with T&A Transfers just tell to your chauffeur what places to visit and what preferences you have, and he will make up a plan based on your individual wishes. In case you change up your mind halfway, no problem – you'll get to the desired place anytime.
5. Punctuality and time-saving. People using Prague limousine service know the value of time, that's why they choose us. A tight schedule is not a problem when you hire T&A Transfers. You will always arrive on time to a meeting, flight, show, dinner or any other event – it's guaranteed. Being late in not an option for us!
6. Local insight and support. Perfect knowledge of the city and suburbs, experience in avoiding traffic jams helps our drivers to deliver you to a destination in time. If you need recommendations in choosing a restaurant, your chauffeur will help. We know some useful things that only locals know – and you'll benefit from them.
7. Immaculate presentation. Business culture requires dress code compliance and arriving in time. But what also matters in the first impression. Mercedes limo with well-dressed personal chauffeur will make your immaculate presentation to business partners.
8. Enhanced productivity. Driving a car especially in a foreign unknown city takes all your time and nerves. Why not to dedicate trip time to preparing to your meeting or a special event? We value your time and will take care of the route and road difficulties.
9. No parking maze, no hassle. Parking near a business hall or a restaurant in the city center is awfully troublesome, so why shall you experience such difficulties? Get this issue instantly resolved with a chauffeur service that will deliver you to the doors and will wait for you right at the entrance when you need it.
10. Safety. We do care about your safety! This is proved by the fact that we use only premium Mercedes cars of the highest safety class and work exclusively with highly professional and experienced drivers. Your safety is proved and guaranteed!
---
How to rent a car at T&A for hourly chauffer service in Prague?
Booking an executive car at T&A Transfers is a 5-minute process. For that just follow 5 simple steps:
1. Choose starting and destination points
2. Pick a date and time
3. Compare and choose a car
4. Fill in your personal data and describe any special requests if you have.
5. Select a preferred payment method – to a driver or online, by card or in cash.
After filling the form you will get a confirmation from T&A Transfers chauffeured executive car service. And it's done! Welcome to Prague!
In case of any hesitations or if you prefer booking a car by phone or email, you are welcome to contact us.
Whatever your reason to arrive to Prague executive car service will do your business or personal trip trouble-free, comfortable, interesting and productive!
---
| Author: tatransfers.com
| A Prague-­based company T&A Transfers provides Car Services at fixed prices.
---